"From Myself to Myself by Myself": Amassia Niziblian's debut solo exhibition.
Written by Hena Aposhian
06 December 2021
On October 1st, 2021 Amassia Niziblian, a 21-year-old Armenian-Canadian artist, debuted her very first solo art exhibition at the Hay Art Cultural Center in downtown Yerevan.
From a very young age, Amassia has been invested in art, starting her training at the Henrik Igityan National Center for Aesthetics at the early age of six. Later on, when she attended Mika Art Studio, she learned how to freely express her creativity. When she spent her summers with her family in Montreal, Amassia attended art classes at the Musee des Beaux-Arts. When Amassia realized that she wanted to pursue art, she became a student of Ararat Minasyan, an Armenian-based contemporary artist, until she was accepted at the British University in the Czech Republic to study fine arts and experimental media.
In this exhibition, Amassia selected events from her diary and put them into a bigger format, since most of her art draws from her personal diary. She also stated that her pieces are infused with her Armenian culture, as it is an important part of her identity. 
"I might not use traditional elements or colors, but the reality of Armenia is in most of the pieces somehow," she said. A large number of the illustrations are memories from Armenia, and are based on her experiences in the Armenian community, stated the young artist.
When asked about the reason she decided to share her illustrations with the public, Amassia said that she was curious to see how others would perceive them.
"I thought it might be very unclear for the public at first, as each piece is a visualization of my memory," she said.. "But on the other hand, through this exhibition I can let other people interpret and understand them in a way I never even thought of."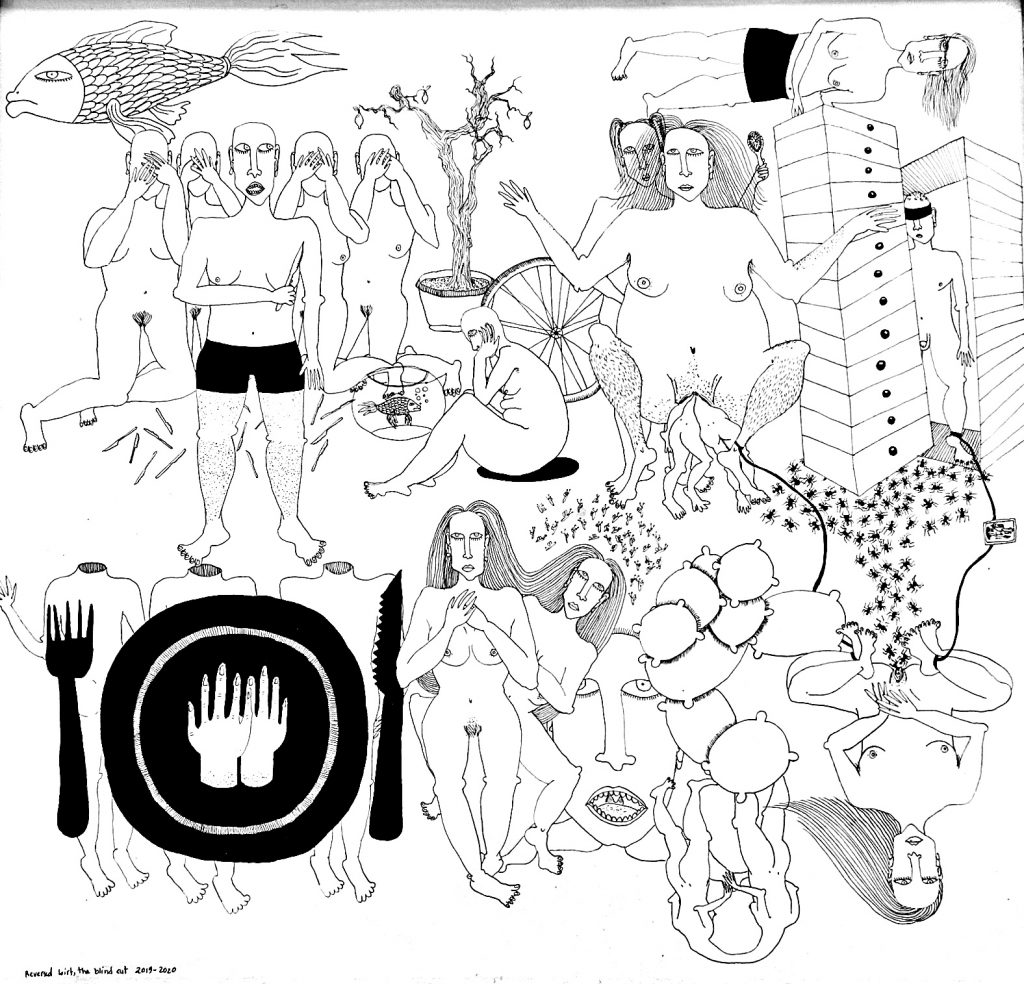 Revised Birth, the Blind Cut 2019-2020
Over the years, Amassia appreciated and was influenced by the works of many different artists, such as Tracy Emin and Mona Hatoum. She recently discovered NINA, an Armenian artist who is based in France. 
"Her way of using the 3D surface for illustration is an interesting element," Amassia remarked.
The artist mentioned that she expresses herself through the feminine form and by breaking down gravity in each frame. When asked about the themes of her illustrations, Amassia mentioned that she highlighted a lot of the issues that she, and presumably a lot of other young women go through, in a personal and discrete way. She believes that identity is one of the major themes in her collection; her identity as a woman, how she is perceived, and how her environment affects her.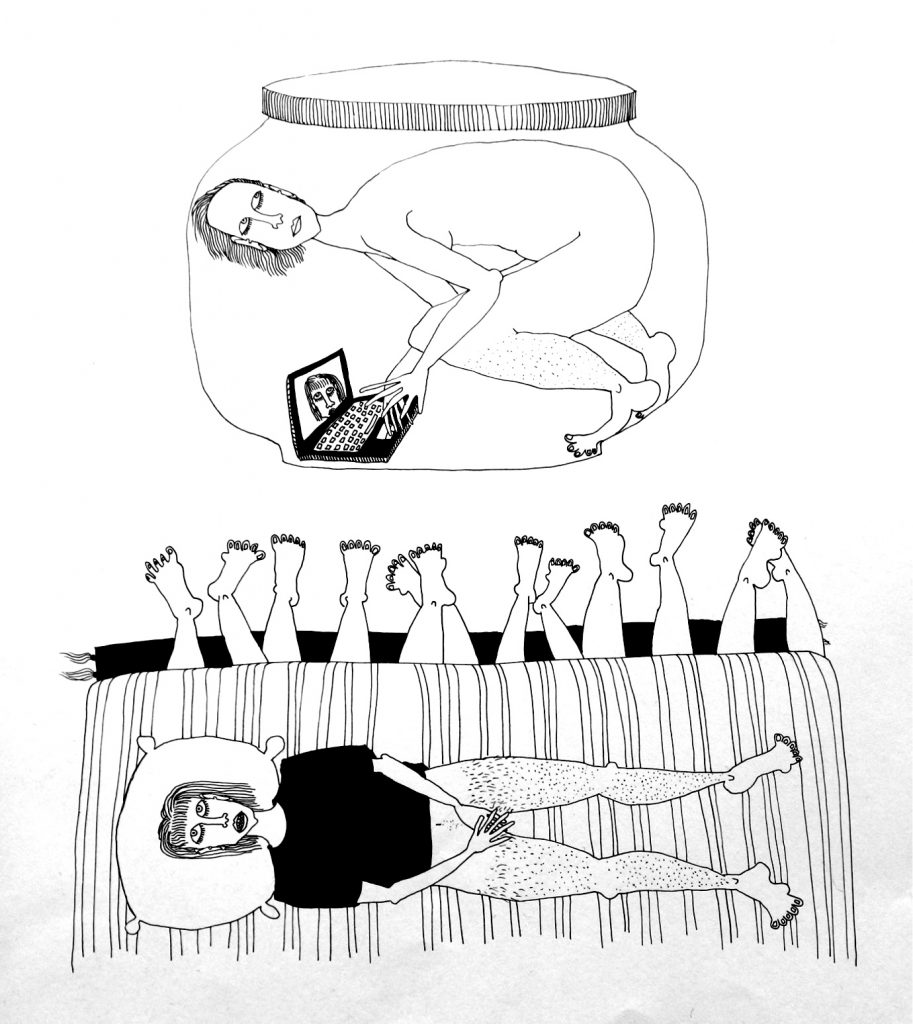 Q-ed in Stripes 2020
All but two of Amassia's illustrations were mostly in black and white. Amassia said that she uses black on white paper because it reminds her of note-taking, and she wanted to have the lines present in her work as a reference to diary keeping. 
"There are some works where I have used red. I work very intuitively and I felt that I must use the color to give a certain part of the drawing a sense of division," she said. 
She also mentioned that the color red mostly symbolizes an outside factor or anything she finds unclear.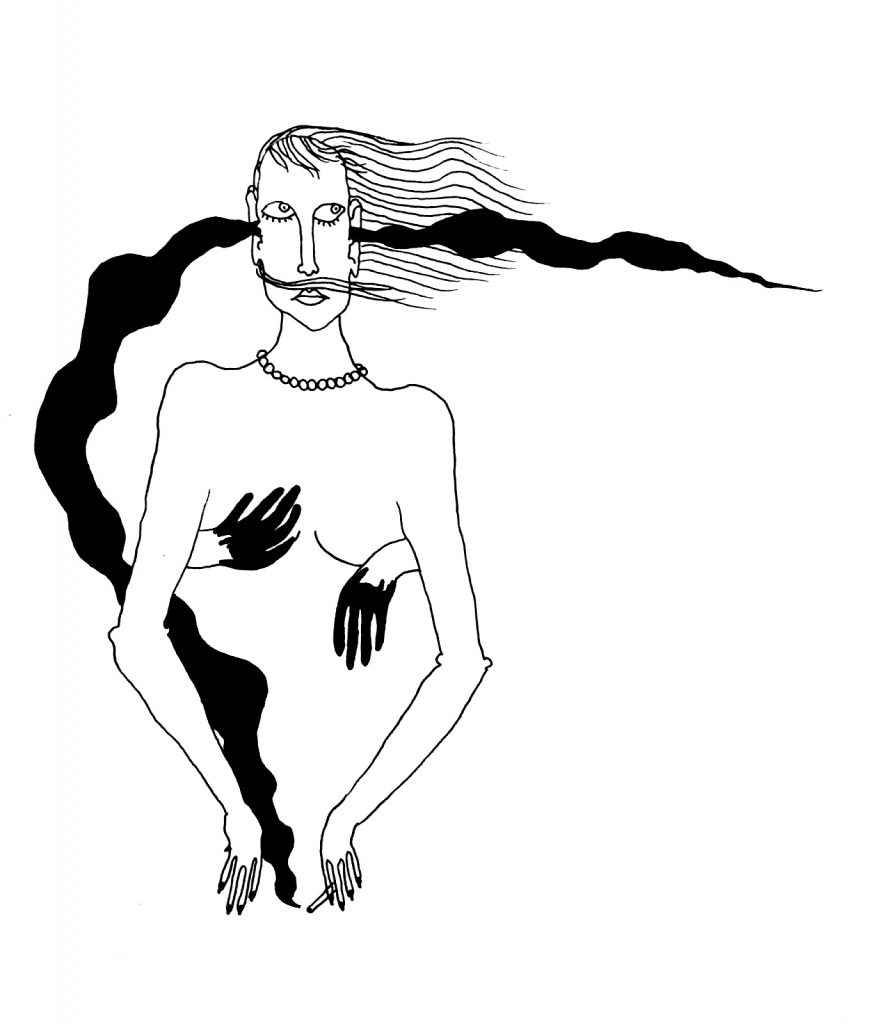 Hold Me so I Can Fall into Pieces Calmly 2020
In addition to the illustrations, Amassia included three videos in the exhibition, two of which are also in diary format. In those two videos, she used many layers of editing to create a sense of collage. The diary videos are made up of short bits that she had recorded over the course of a month. The artist explained that the first one is about the struggles and benefits of isolation during the pandemic; it is a game between selves and action. The second video diary is about the war and the way it changed the values of Armenian society. It is also about how war becomes a part of a person's identity, how the world is perceived and how people perceive themselves. The third video is a recording of a live performance. The artist used projectors and sandwich paper to create analog layers. The video is an investigative work about a woman who was a victim of domestic violence and the guilt women feel afterwards.
The exhibition was funded by the Women's Fund Armenia and Amassia's works were on display in Hay Art Cultural Center for a week, from October 1-8. Now, her works can be found on her Instagram page "iamveribizi". All of the 22 illustrations from the exhibition were for sale, as Amassia believes that others can emotionally connect with them and interpret them in their own way.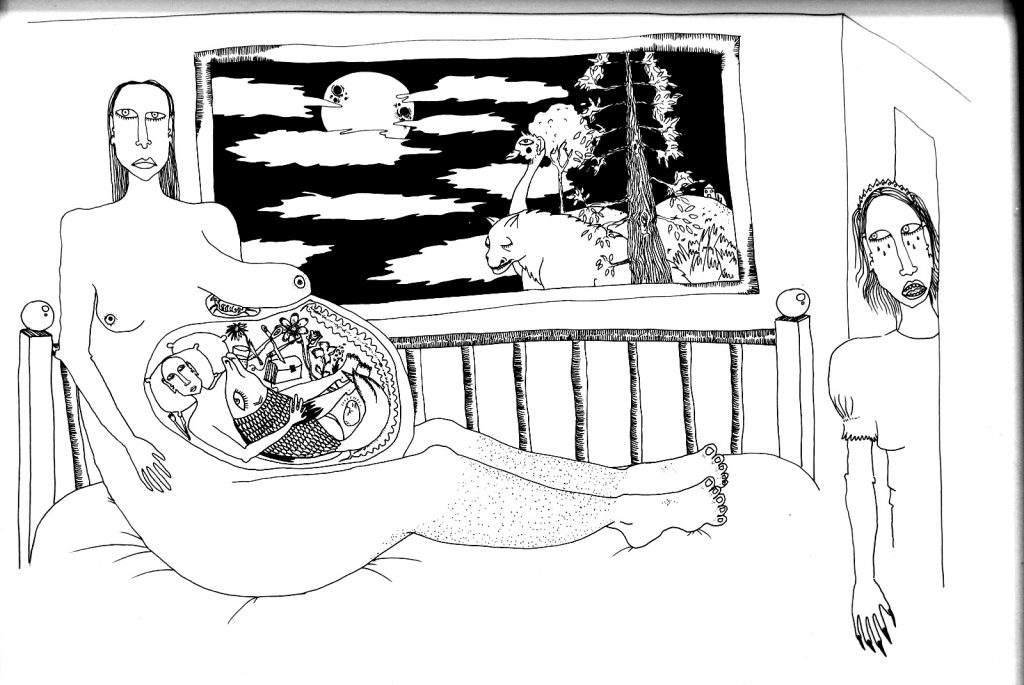 My Sister was Born in July
***