Champion Communities: How Football Created International Solidarity for Artsakh
Written by Araxie Cass
05 August 2021
As the Artsakh War of 2020 raged, Busani Sibindi read the updates in his hometown of Bulawayo, in the Matabeleland region of Zimbabwe. Although his own region was suffering intensely under the effects of the COVID-19 crisis and their constant experience of government repression, he immediately felt for the situation of the people in Artsakh. 
"Nobody takes responsibility when the country doesn't appear on the world map," he said. "People don't pay attention to these marginalized, isolated, and disputed areas." 
Growing up in the aftermath of the Gukurahundi Massacres of 1983-87, a series of massacres of Ndbele people in Matabeleland orchestrated by Robert Mugabe's government, Sibindi has always been an outspoken activist for his community. He has traveled internationally to advocate for the human rights and development projects in Matabeleland, and has founded and worked with a variety of development organizations, including the Save Matabeleland Coalition, a coalition of organizations advocating for the human rights of people in the region. He also founded the Matabeleland Football team, as part of a project to develop his community and awaken a national spirit that had been crushed by so many years of trauma. 
Football ultimately connected Sibindi and his team to football players and fans across the world through the Confederation of Independent Football Associations (CONIFA), an organization representing unrecognized nations not allowed to play in FIFA. In a harrowing two-year journey he describes in his book We Shall Conquer, Sibindi and his team made it from their hometown to the CONIFA's 2018 World Cup in London.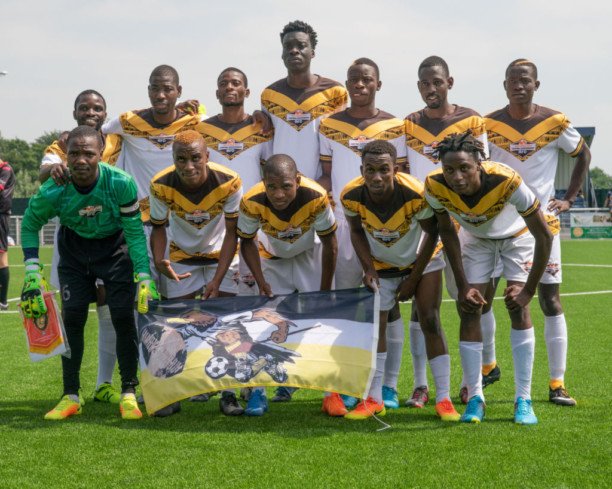 In 2019, CONIFA held their World Cup in Artsakh, and although Busani and his team were not able to go, they felt connected to the people of Artsakh through their shared struggle. 
"These smaller nations, unrecognized nations, and minority groups are like puzzle pieces that don't fit in with the bigger scheme of things in their surrounding nation, or the hostile nations around them. So when we come together, we find out that we are pieces within our own world, which completes the picture of our existence and gives us a reason to celebrate who we are," Sibindi explained. 
Sascha Duerkop, CONIFA's former executive director, remembers a similar sense of inspiration and unity at the CONIFA's 2019 World Cup in Artsakh. 
"Literally the whole country was on its feet," he said. "Everyone was there. I remember during the opening ceremony and the final, not only was the stadium in Stepanakert sold out, but there were thousands of people gathered on the mountains; it was absolutely crazy. I felt very welcome and at home in Artsakh, and I met a lot of friends that I have met since, when they were in Brussels for negotiations with the Minsk group or the EU. So of course, I got very worried when the war started and stayed in touch daily. Early on, I personally donated just to friends I knew on the ground who used the money to buy simple stuff like food and medicine in Yerevan and bring it back to the bomb shelters in Artsakh."
Seeing Duerkop's posts on Twitter, Sibindi contacted him, asking if they could get a group together to support Artsakhtsis and amplify their voices. Together they started Football For Artsakh, which sent nearly $1,000 to aid with Kooyrigs' on-the-ground efforts, and raised awareness worldwide, with football players and fans from Ireland to the Chagos Islands helping to contribute to the cause. Perhaps most importantly, it showed the potential of global solidarity among unrecognized nations and the power of football as a force for social change. 
"Football connects people because they understand issues best when they are in their most comfortable states of mind. For instance, with Football for Artsakh, a person who loves football would want to understand it, so they would follow it and then want to understand what Artsakh is. Then they will start the conversation themselves. You do not need to get into people's minds and preach to them–you simply put it out there, and people can really look at it in different ways," Sibindi said. 
Duerkop also found himself learning through football. He is a mathematician by profession and has a hobby of collecting football shirts from national teams. When he had collected one from every country on earth, he started looking to see if there was anything else, and discovered the existence of unrecognized national teams that are not allowed in FIFA. As he started to meet team members through collecting their shirts, the team for the Cascadia Bioregion in the U.S. asked him to represent them at a conference of unrecognized teams in Germany, where he lives, since they weren't able to fly there themselves.
At that very conference, the group collapsed from internal disputes, leaving Sascha as one of the few people who had connections with all of the teams. Through that web of connections, he and a few others founded CONIFA to replace the former organization in May of 2013. 
As he worked as General Secretary of the organization, one of Sascha's main tasks was to gain enough members to host a world cup. So, having not even known about unrecognized nations a few years before, he found himself traveling outside of Europe for the first time to Artsakh, Northern Cyprus, Abkhazia, Somaliland, and other unrecognized republics around the world. 
As Duerkop sees it, the 2020 Artsakh War brought out both the best and the worst in unrecognized football. Duerkop left CONIFA in March, seeing that the organization had gone in a different direction than he intended when he started it. When the Artsakh broke out, he wrote the organization, including openly, asking them to raise the issue, but they refused, saying that it could be seen as a political statement. 
"There is a bit of being afraid of raising your voice," he said. "But at the same time, a lot of teams from Africa got in touch with me, actively asking me about the situation and everyone they had met there, so I think there is solidarity on the grassroots level. And it can be channeled and used, and I think now they will stay in solidarity with each other. I have also seen Artsakhtsis helping out the team in Matabeleland as well, so I think those bonds are there."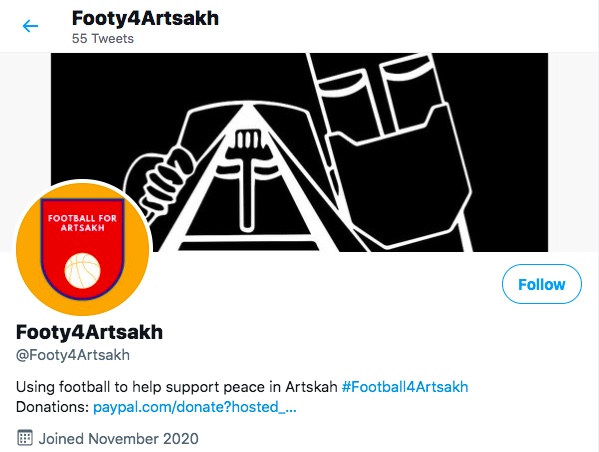 Sibindi also sees a great potential for solidarity through football. 
"It's not about raising more champions," he said. "It's about trying to raise champion communities. Communities who are always in a position to encourage and to take care of their weakest and move with their strongest."
***