Exploring the Silences: Interview with Nancy Agabian
Written by Kristin Anahit Cass
04 August 2023
By Kristin Anahit Cass
Articulate, charming, thoughtful, socially engaged, and genuinely kind, author Nancy Agabian is the sort of person you immediately want to know better. Her writing is at once vulnerable and sharp, and she gets to the raw places where individual identity confronts the conformity that marginalized groups often demand in search of survival. Reading her work, you can feel seen and heard as an American and diasporan Armenian, connected to our ancestors and homeland, understood as many of us seldom are.
Anahit Cass: I've enjoyed all your writing immensely. I've read excerpts from Princess Freak, which I think is out of print, and wished I could find a copy. Reading Me As Her Again felt deeply personal for me, as it was the first time I felt connected with another bi Armenian's experience. I also enjoyed your Connected Rooms virtual writing workshops during lockdown. I'm in the middle of reading The Fear of Large And Small Nations. Many of Na's experiences as a diasporan in Armenia resonate with mine.
Can you talk a bit about your background?
Nancy Agabian: I'm a second-generation Armenian and my parents are the children of refugees who fled the oppression of Armenians in the Ottoman Empire. My father's mother was a genocide survivor. I grew up with an extended Armenian family, but in a town without an Armenian community. I grew up both enmeshed in the Armenian community through my family, but feeling like an outsider in a place apart from that community where being Armenian raised questions of "What are you?". I felt pressure to carry on the Armenian culture at the same time.
My mother was very engaged with the arts and culture, and that part of my upbringing was very rich. My parents also had very strong political opinions, and were politically liberal and socially conservative. My parents were strivers who came of age in the 1950s, and so were subjected to hardcore pressure to assimilate. Those were the dynamics when I came of age, when I became aware of the silences. For example, my mom was a feminist, but not supportive of LGBTQ rights. There was room to express myself and to question, but also to feel the tensions. All these circumstances contributed to my desire to explore social and political issues. My orientation to the arts became a survival mechanism for me.
A: How has your background affected your writing?
N: Those forces and tools launched me. As a young person coming of age in the 1980s and coming out as bisexual, there weren't a lot of ways to talk about that. I really saw all of it as linked with race, sexuality, class, gender, and sexism. Those family dynamics and background created the ground where I could both explore the arts and use those tools to become aware of and explore the silences.
A: How did you start writing?
N: To begin with, I was mainly a visual artist, doing paintings, drawings, installations, and books. There would be words in my paintings, but I didn't consider myself a writer. I had journals and I would draw in them, like a sketchbook-journal combo. I was an art major in college, which was kind of a fight for me. My parents wanted me to do something sensible that would make money. I thought I'd be an architect because it's art related, but I failed miserably. I graduated with an art major and moved to Los Angeles. I felt this strong sense that I needed to find myself apart from my family because they'd been such a dominant force in my life.
I landed in Venice, California and lived right down the street from a literary art center, Beyond Baroque. I saw that they had performance art and poetry classes and I was interested in performance art because of being a visual artist. I felt I was too shy to do performance art yet, but would try poetry first. These were free classes funded by the state, which doesn't happen so much anymore. It's nice to be reminded that the arts can be funded and don't have to be monetized. It was an incredible learning experience because it was a multicultural poetry workshop for women, run by an amazing poet named Michelle T. Clinton, a queer black woman. The emphasis was on writing from our cultural backgrounds and doing it in a way that respected that everyone has a story. It's not that we didn't talk about discrimination and racism, but the idea was that we had an audience and people were interested in our stories and how we were unpacking them.
That has stayed with me through all my work. I tell that story whenever I teach a writing workshop, because I intend for everyone to have that experience of feeling heard and having a space to explore the silences. When you said that those silences are so common, I feel that all the time when I teach and we open up those doors. In LA in the 90s, it felt like people were very supportive of young artists. There was this ethos of sharing stories and saying "This is what happened to me, these are my silences, this is how racism affected me, or how I learned these covert racist attitudes and this is how I'm unpacking and making sense of it." That was also a really formative experience in how I started writing.
I saw friends who were teaching in colleges and I thought, "I need to have a more stable income." At the same time, my performance art pieces were getting very text-based. That's kind of what led me to get an MFA. I thought, "Well, an MFA will get me where I want to go and writing has been the one constant even though I've done visual art and performance art." I did create these artist books, and I did draw on the paintings and the text was so much of the performance art that I thought it made sense to get an MFA in writing as opposed to another discipline.
A: Do you have a process for your writing?
N: Right now I'm writing about caregiving and grief. My mom passed away last August and I take care of my dad two days a week. So for the last several months, the process has been: I come home to my space and I journal, and then if things come to me, I try to write them down. I'm processing difficult stuff through my journal, but also documenting the things going on in my life. I belong to a writing group that meets monthly and I share my work every two to three months. If I don't have deadlines in between that time, then I'm trying to produce work to share to get feedback. Sometimes I'll look at the journal and think "That can be an essay." I'll try to bring it from this very intimate type of journal writing to something that is shaped more intentionally and has more of a vision or development. It starts very personal and then I look at it and think about what it's saying that could have threads into something social or political and try to craft it into a piece. I really can't finish a piece until I get lots of feedback from people. Often I'm experimenting and I want to see what people are seeing or responding to or what they think is important or interesting. My books were all written that way. I start with personal writing, and then decide what feels like it has a point to make, and then I craft it to a degree that I can bring it to a group to get feedback.
A: Why did you decide to write Me As Her Again?

N: I went to Turkey in 1998 with my aunt to find the village that my grandmother was driven out of. I was trying to tell that story in a performance with all the layers of family history and trauma and queer identity, and it just was too much for a time based piece. Then I thought, "This could be a book," and that's when I applied for an MFA program. Me As Her Again is both my grandmother's story of surviving the Armenian Genocide and my story woven together. It's a memoir of growing up Armenian and American and the pressure to fit into both identities. My aunt and I traveled to Armenia together and were able to explore our family history of genocide and displacement. It allowed me to reckon with that history.

A: I wish I could see one of your performances from Princess Freak. Can you talk about the book, Princess Freak?

N: It came out of that time when I was living in LA in the 90s. After I took Michelle's workshop, I was doing open mics all around. The city was really into the spoken word scene. I was in a couple of collectives. I was developing performance art pieces. The Highways Performance Space in Santa Monica was a home for queer performers and I would perform there maybe once or twice a year, sometimes with collectives and sometimes on my own. The poems, performances, and Princess Freak are all from that time.

A: Are you still doing performance?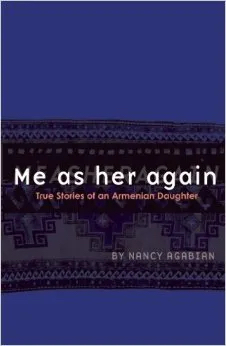 N: I'll resurrect it every once in a while. When Me As Her Again came out, I did a performance that used some of the text from the book. A close friend asked me to be her child's godmother. and I found myself feeling like I didn't know how to take on that role. So I wrote about my experiences in the Armenian Church and my feelings about the sexism and patriarchal nature of the Church. I tried to parse out spirituality and religion and what was important to me. During the performance, I created priests' vestments out of newspaper, recited church stories from Me as Her Again, did some yoga, and sang some of the Badarak (liturgy of the Armenian Church). With The Fear of Large And Small Nations, I developed a performance about domestic violence, which I performed in Milan, and then LA. So I can't quite get the performance out of me. It'll pop up every once in a while when I feel like I need to do a ritual or if I've been given the opportunity, but it's not my primary focus.
In terms of being a shy person and yet being a performer, I think one thing that drew me to performance was it felt like a safe space for me. It had a lot to do with getting that foundation in the multicultural women's poetry workshop, having a completely safe and supportive space where we all did a reading at the end, we all supported each other in that and I could say things in performance that I couldn't always say in the real world. It gave me room for that.
A: Tell me about your literary organizing. I experienced your online workshops during the pandemic lockdown, and they were a lifeline to many folks. You've said that writing is a tool of self-care for you, and I think for many others as well.
N: The literary organizing has mostly been through reading series and writing workshops, to connect writing with social and political and community issues. Funnily enough, it started with an Armenian reading series called Gartal, which ran for about ten years in NYC from around 2000 to 2011. I wanted to bring Armenians together — the progressive and the traditional. Because I felt we had a lot to learn from each other. Really I just wanted to curate events that I wanted to go to. In a way that's true of the most recent project, the Connected Rooms workshop that you attended. I was struggling during the 2020 war and felt I needed like-minded folx to talk to and write with. There was a group of about five of us, a group of Armenian writers, both queer and allies — we mostly expressed our feelings about what was going on. The following spring I decided to use some of the exercises we'd done and bring them to a wider audience. So organizing has frequently come out of a personal need for community. Over the years I've coordinated workshops for other communities…immigrant writers in Queens, women in Armenia, queer people in NYC. These workshops followed Michelle's model, to collaboratively create a space where people could write about and be heard by an audience of peers who uniquely know what they're going through. Lately, I've been putting my energy into organizing queer Armenian literary events with IALA.
A: I'm deep into your latest book, The Fear of Large And Small Nations. The characters are often flawed but engaging. The experiences of a diasporan in the homeland are very relatable. Things are both familiar and utterly foreign. One can feel affection and closeness with Hayastantsis, yet still feel a distance or separation. There always seems to be some disconnect.

Can you talk a bit about the book? Is it autobiographical?

N: Yes, it is an autobiographical novel. The main character is Natalee or Na, as she thinks of herself. Na's story and mine overlap, and I fictionalized it to create the story that's the novel. I did live in Armenia for a year, I kept a blog, I found myself in an abusive relationship and I had to find a way out. At first, I thought I would write a nonfiction book about my experiences in Armenia and the social and political issues I was encountering. My writing group thought I needed to write about my personal experiences, that they shed light and connected to the observational stuff, and they were right. Writing the book then became a lifeline that helped me get out of a bad situation.

A: How did you choose the form you used (blog posts, etc) and how does it relate to your experience of being a diasporan in the homeland? The disconnect of being both American and Armenian?

N: When I set out, I thought I was going to write a reported creative nonfiction book. I had all this material about Armenia from the blog posts, and I was writing about them reflectively from my current vantage point a few years later in New York.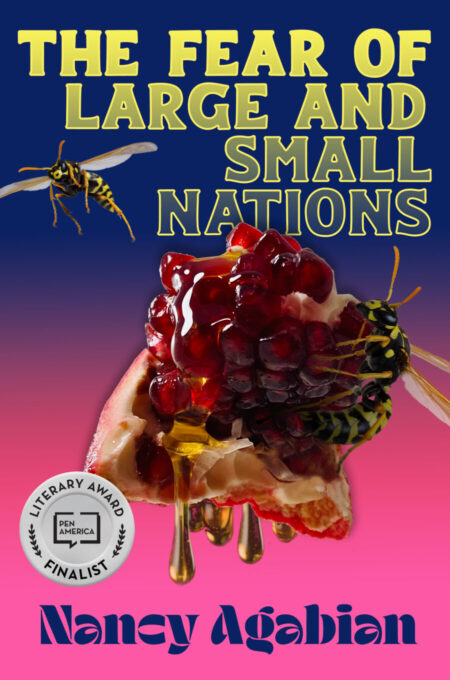 After I started incorporating the personal story of the relationship with journal entries, I struggled because it was a difficult thing to write about, in terms of the shame and abuse, and there were creative issues as well. The reader was stuck in an abusive situation with the narrator, who was in denial about her situation, so the narrator became unreliable. When I switched to writing in the third person it was as if I was narrating a movie of myself. It gave me some distance and helped me manipulate all the parts, like blog posts, journal entries, etc. Writing in the third person gave me the space I needed and the permission I needed to fictionalize and create the story. It also gave space for the narrator to reflect back on her past, to become reliable to the reader — and for the reader to know she eventually survived. Using any of those forms alone was inadequate to tell the story. Together they created a public/private divide that felt like the divide that manifested for me in Armenia, where people had very different public and private lives. They represented Na's fragmented reality.
There's one chapter where Na is having a discussion with her students about writing. One of them says "I tear up what I'm writing because I don't want anyone to see it. I used to keep a journal, but I don't anymore." It was 2006 and there was this new energy of building organizations and building the government. Armenians were building new ways of being and civil society was developing. Feminists were organizing and queer people were just starting to organize. It was still very dangerous for queer people to be out, so although we were finding each other and finding space, there was a very clear public/private divide. I think for a lot of minority groups or other small populations, we're so concerned about our survival, including in diaspora, that in order for you to make space for yourself, sometimes you have to live this very divided life.
A: Natalee seems to feel a sense of unbelonging, not fully American or Armenian, and yet she is both. Do you inhabit that sort of diasporan realm yourself?
N: Yes, and being Armenian wasn't easy for me. I went through this process of returning to it: growing up with it, deciding I need some space from it, and then finding a way back in as a queer Armenian. I feel like the whole experience involves explaining and teaching other people. Our being Armenian is not visible in American culture at large, and then sometimes it's not even visible to us.
I had to go through this effort to really make it mine as a queer Armenian, and then when I went to Armenia I realized "Oh, they really don't see me as Armenian." That was so hard, so painful. I couldn't even make sense of it at the time. That's a deep wound. It goes deeper than belonging. It connects with intergenerational trauma. One thing that surprised me in writing the book was that I set out to go to Armenia to reclaim my roots, and I learned more about being American and all that I'd taken for granted as an American. I got used to the feeling of unbelonging and to encounter it is very disorienting when you realize it on a deeper level.
A: What motivated you to write about an abusive relationship?
N: It wasn't easy. Domestic violence was also an issue when I was in Armenia. For me, I thought of it more as a metaphor for other things. It helps shed light on some of the intergenerational trauma issues because I do think it results from a cycle of violence. I'd also felt like there was a lot of violence in the culture. I feel like the more I read about domestic violence and learn about it, I agree with what you said that there's not enough written about it. I think reading about other people's experiences has helped me more than anything else because it destigmatizes domestic violence for survivors. Not that it should happen, but just to say, it does happen and there are so many factors for why it happens. The more we can learn about it, the more people can identify what those factors are and get help, and find out how to admit it to themselves so that the cycle doesn't have to keep going.
A: How does amot (shame) figure in this work? I feel it palpably.
N: It became a motivating factor to write the book, to explore that shame. The abusive relationship is essentially a codependent and narcissistic relationship, and shame is at the heart of narcissism. It was something that I was unpacking as I was writing, and I was hoping that it would help other people unpack shame. It's a really core part of the book. Shame is what kept me stuck in an abusive situation.
A: Our Armenian community can be very unwelcoming to feminists, queers, mixed folks, and others who don't conform. Do you feel like part of the community?
N: It's mixed. When I was living in New York, I spent 20 years collaborating with and befriending Armenians who are not that conservative stereotype, who are queer, who are artists, who are feminists or mixed race, and they're my Armenians. That's the community that I feel. I think we're at a point now where there's a lot of grassroots organizing and networking among alternative Armenians, for lack of a better word, that's very rich. I see that alongside our institutions which are really slow to change, like the churches, the schools, the lobbying organizations, and the cultural organizations. There are new organizations that are different, that are more welcoming and open. So I do feel a part of my Armenian community. I know there's another one out there that I don't quite belong to, but I can dip my toe in and see what's on the other side. Sometimes they overlap, and sometimes the old one changes.
A: One thing that struck me while reading The Fear of Large And Small Nations is that in one of the chapters, Na is talking about her students in Armenia. There's a class of regular students and there's a separate class of oligarchs' children. Na is talking about the oligarchs' kids and the things that they say, and there's a really stark class divide between the two groups. The hard right swing towards oligarchic capitalism seemed to come right from the time of independence. I wondered if that was something you intended to write about, or just a byproduct of the experience?
N: It was intended. Corruption was such a strong theme while I lived there. It's in a lot of the blog posts. It felt important to write about. I decided that the relationship story could give a window into diaspora-homeland relations, and issues of privilege and power. It became one of the factors I was looking at. Na also has to encounter and make sense of her position, and the decisions she makes all along.
Corruption is painted in this very black-and-white way. Maybe what the revolution in Armenia revealed was that it's a process. It was a process for society to change, to decide that they'd had enough. Armenia is still in a process even with the horrible situation that it finds itself in. The last few years with Armenia and Artsakh, it's felt like the metaphor of an abusive relationship, and Aliyev (president of Azerbaijan) is the abuser. It was evident from the first time I went there that the corruption and the destructive forces of capitalism were the things people were most concerned about. People's fear of Armenia's vulnerable position in the world felt like it was being taken advantage of and that's how oligarchs stayed in power. It's been hard to watch what's been happening now, where once the revolution felt so promising but everything that's happened since has exposed Armenia's vulnerability.
My agent had been trying to sell the book for several years and he couldn't sell it. I didn't know what to do. Then in 2020, the war happened and it felt like no one was paying attention and it felt like our stories had to get out there. So it became a push for me to get the book out there and I ended up working with a really wonderful press that I'd worked with before. I was concerned over the year or two it took to get the book out. Do I want to put out a story about Armenia in 2006? Do I want people to judge Armenia through that lens when what's happened with the war has been so unjust? I think the book also shows this real desire for freedom and justice which is still happening, which is what the people of Artsakh want in seeking their right to self-determination. It is part of the same story, the way the global and the local come together can be this very weird dance and it can impact a culture and how people decide to find their way.
A: What's the most Armenian thing about you?
N: I think being creative is my most Armenian trait. I've seen so many examples of creative Armenians — on social media, at Vernissage and Queernissage, as entrepreneurs. You see so much creativity in the culture, in the music, in the food. When I see that creative spark in Armenians I feel like I recognize something in me, and I feel like it unites a lot of people.
A: What are the most important parts of your identity?
N: They're all important to me, being queer, being Armenian, being a writer, being a friend, being a caregiver, being a daughter. Being my mother's daughter has been important to me lately since I lost her. Being a creative person is very important because it's the way I've been able to engage all the different parts of me and be in the world and be in community.
A: What's one thing you really want to learn?
N: I've been wanting to take voice lessons. I want to learn about my voice, and I'd like to sing on key. I'd love to sing harmony. I don't know why harmony appeals to me. It just sounds so beautiful. When I sang the Badarak (the Armenian church liturgy) in my performance, it felt very powerful to claim it, you know?
A: What's the craziest thing you've ever done?
N: Back in my performance art days I did a performance naked. I felt totally fine but I never did it again. I think it was the kind of thing where it felt like you had to do it, like everyone was doing it at the time. So, I wanted to experience it. I also think that so much about the work that people were doing at the time was really emotionally vulnerable. In a way, you already felt like you were naked, like you'd already made yourself vulnerable and so taking off your clothes was not even that hard in comparison to the emotional vulnerability.
A: What's your superpower?
N: I think sometimes I have a superpower of making alchemy in groups with creativity, like during a writing workshop. That feels like a superpower, to be able to put different elements together, to help people write a story or write a truth.
A: Do you have any advice for other creative folks who may be struggling?
N: I think you can't go it alone. You have to reach out to other people to collaborate or share work, that's a big part of the process. If people find themselves stuck or struggling, ask "who can I share this with?" or "what's the next step to take this beyond me?"
A: What's a perfect day for you?
N: I think if I can write, if I can read, if I can be in nature, if I can be among friends — and being with friends would involve food — if I can experience some art or have a surprising interaction that I never imagined, that would be a perfect day.
A: Are you working on or thinking about any new projects?
N: I have this long-standing essay collection that I'd like to finish. All the years I was working on the novel I've been writing personal essays that centered on liminal spaces of identity — like an Armenian response to the Muslim ban in 2017, and an examination of Armenian racial identity. Through the pandemic, they've expanded into caregiving, dementia, and the war. When I'm done with that, I'd like to maybe paint again, to circle back to visual art. Another idea I have is to do a historical novel that's a hybrid with magic realism.
A: Please write that novel! I really want to read it and I think others will too.
Nancy Agabian is a writer, teacher and literary organizer who works in the intersections of queer, feminist, and Armenian identity. She is the author of The Fear of Large and Small Nations, a finalist for the PEN/Bellwether Prize for Socially Engaged Fiction, published by Nauset Press in May 2023. Her previous books include Princess Freak, a collection of poetry and performance art texts, and Me as her again: True Stories of an Armenian Daughter, a memoir honored as a Lambda Literary Award finalist for LGBT Nonfiction and shortlisted for a William Saroyan International Prize. In 2021 she was awarded Lambda Literary Foundation's Jeanne Cordova Prize for Lesbian/Queer Nonfiction. A longtime teacher of creative writing at colleges and universities, she has also led workshops with multicultural groups in Los Angeles, women writers in Yerevan, SWANA writers online, queer writers in NYC, and immigrants & first-generation writers in Queens, New York. A former Hye-Phen collective member and AGLA-NY board member, she currently serves on the board of the International Armenian Literary Alliance.
***