Hummus Sexuality is Not Tabbouleh: Love, Laughter, and Drag with Vera Hannush
Written by Kristin Anahit Cass
07 September 2022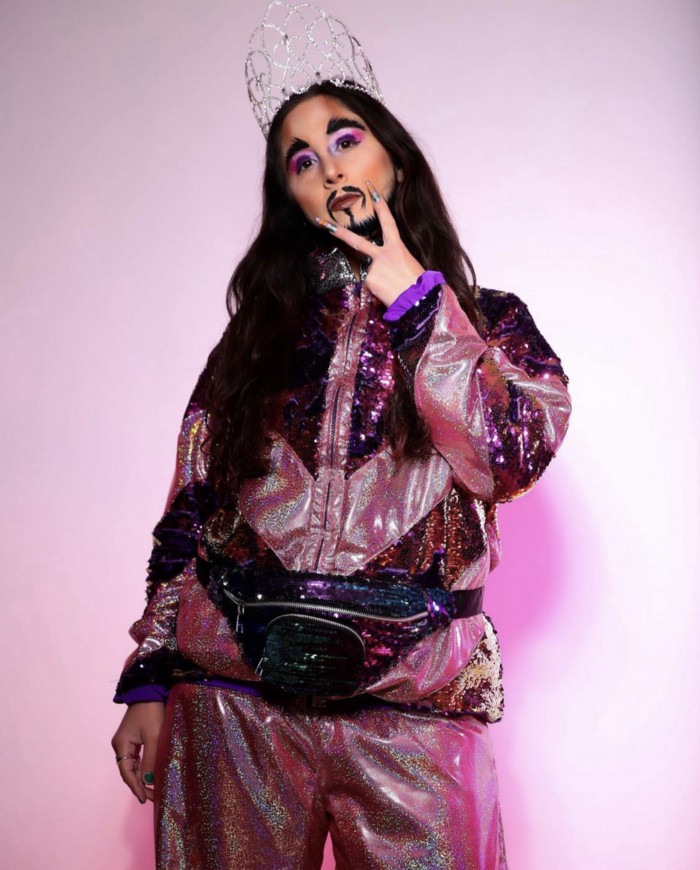 Speaking with SWANA drag king Vera Hannush is an event filled with lots of laughter, playful absurdity, and enough love to make you forget for a few hilarious moments about all the difficulties that queer SWANA folks face. And then there are the performances… 
Kristin Anahit Cass: I loved the photos and videos from the High Princx Pageant!  Can you tell me more about it and how you married yourself?  
Vera Hannush: It's a phenomenal pageant started by Tito Soto and the Princess team at Oasis Club in San Francisco. It's a beautiful celebration of Bay Area drag talent with at least five years of experience exploring their art. I was so honored to be invited to participate. I really wanted to lean into my SWANA and Armenian heritage, so I immediately went on Etsy and bought an Armenian wedding dress. I really wanted it to be suffused with culture and deliciousness and infused with my unique weirdness and quirkiness. My amazing drag brother Jota Mercury helped me make everything for both nights of the pageant.  
KC: Tell me more about your sologamy (self wedding) performance! 
VH: They built me a beautiful wedding arch with discs of pomegranates and cloth all over it.  We put my face on a fanny pack (a Vera signature accessory) so I could use it to marry myself. I had four beautiful backup dancers wearing jingle bells and kafiahs.  Two are my drag children, Helixir Jynder Byntwell and the Dragon King, Glamputee who is an amazing disability justice activist and beautiful dancer, and Hrayr Varaz, an incredible queer Armenian poet, artist, and performance artist. I added some Armenian wedding flute music to really set the mood.  
I started with Cher's song Believe and then I moved into a Haifa Wehbe song. When I was a kid I would watch Haifa's workout videos. I remember thinking that she was really hot. So I brought her in through a queer SWANA route with her workout video playing on the screen behind me. My drag brother made a dress for me so that at the end I pulled a string and the whole dress flew off and I'm in this body suit with little pomegranate pasties for an epic finale.
You know I love fanny packs, so my drag brother made me this six-foot fanny pack that descended from the ceiling. I got into it and did a quick change into a bunny outfit from a wrestling outfit.
KC: I love your fanny pack fetish!  It's legendary, the hairy belly fanny pack is a favorite. How did that come about? 
VH: Yes, "fetish" is an accurate word. I was wearing them before drag because they're so useful. I don't drive, I'm always on public transit and I don't want to be holding all my stuff. I love dancing and I don't want to be bringing a bag onto the dance floor. And the next thing I knew I was using fanny packs like the hairy belly in my drag performances. My drag persona is an extension of myself, and so are the fanny packs.
KC: I think that audiences love the laughter that's always part of your performances—the freedom to be absurd, wild, and hysterically funny. Your performance of Release Me with your cat, Crumpet, for Entanik's Endless Pride show for one, and your performance of Kochari too!  How did you get into drag?
VH: I started going to the Rebel Kings shows in Oakland in 2005 when I came out here for grad school. Then I started helping out at the shows. After that, I became a backup dancer. Eventually one of the kings asked me to be a femme duet partner. After a while, I realized I wanted to be on the other side of the duet. Then I was asked to be part of Rebel Kings. 
KC: How did you learn to do your makeup?
VH: During the pandemic, I had time to learn so much about makeup. I used to do mainly a mascara beard, and because I'm Armenian I have a lot of hair on my chin so it really picks up. I like my beard better now, but I like all of the iterations of myself. I did lots of tutorials online. I still like rubbing my finger frantically in eye shadow palettes and just playing. 
KC: What do you do when you're not doing drag?
VH: I'm the Bay Area Development Officer for Covenant House California, which is the shelter system for youth experiencing homelessness in Alameda County. I came to the Bay Area for grad school to study Latin and I haven't quite incorporated that into my work yet. 
KC: Somehow I think you'll find a way!  What do you do in your free time besides drag?
VH: I'm also the lead volunteer trainer on the LGBTQ national hotline.
KC: What are the most important parts of your identity? 
VH: My queerness and gender queerness, which come together in a nice alignment in me, my SWANA identity, and then there's my being a community caregiver.  They're all one Venn diagram because I care for the queer community,  and that includes the drag community.  Drag is also represented in my gender queerness, and drag is how I discovered I was genderqueer.   I'm mixed Armenian and Assyrian on my Dad's side. I get most of my SWANA sustenance and cultural heritage reinforcement through being queer and the queer community, and also through being a community caregiver and uplifter.
KC: Tell me more about your experience as a SWANA queer.
VH: I feel like all of my Armenian knowledge is from the queer SWANA community, from being interested and asking friends.  Once in a while, my dad will tell me things, but ever since coming out, there's kind of an information gap.   Access will open and then shut.  Some questions just go unanswered completely, and then other times I'll get an anecdote. I didn't grow up with any of that cultural knowledge from my family.
At my first San Francisco Pride Parade years ago, I saw a SWANA contingent marching with SWANA BAQ (Bay Area Queers). One person was holding a QHye sign and another had a sign that said "Hummus Sexuality is not Tabbouleh."  The parade was so packed you could barely make your way through the crowd, but after I saw them I didn't care if I tripped over a stroller or a senior citizen as long as I could find them. And I did find them and the next year I marched with them. They threw great parties!
I would belly dance along with them, not that I'm a trained belly dancer but it looks much more convincing if you're marching in a parade. You're not stopped, nobody's watching the technique. You can just kind of shake and run.  At first, it was predominantly men, so I had these brother and uncle figures who would try to help me learn to dance.  One of them would drum for me to get me on the rhythm and then grab my hips to show me what to do.  It was so sweet!  One year I had to come in drag because I had a gig right after the parade.  I wasn't sure how they'd react, and I had this moment of doubt.  But the first thing anyone said to me was "Oh, you're so handsome!"
I've been involved with other groups like Feminine-of-Center* Middle-Eastern Queer Womyn and Trans [FOC]MEQWT!, the Pacific Center, and now I'm part of a group called Hikayatna, which is all about telling stories.  There's lots more of the SWANA community here that I generally can't access because I don't speak any of the languages, and I don't do the church thing.  Sometimes I forget that all SWANA people aren't queer, I walked into a comedy show holding hands with my girlfriend and suddenly thought "Oh, different vibe here."
KC: What's the wildest, craziest thing you've ever done?
VH: Outside of the six-foot fanny pack that descended from the ceiling?  When I was younger, I spent a summer in South Dakota working with Habitat for Humanity on the Rosebud Reservation.  Looking back I did a lot of things there that were hugely dangerous, but I was just too young to know or maybe I would do them again, I'm actually unclear about that. My boss told me to go get tools in Nebraska and I said, well, I don't drive. He just threw me the keys and so I drove, knowing nothing. I was driving over a plank bridge over a river, and I remember thinking, well, if this is how I go, then it is. Then, I free-climbed the needles, which I had no business doing.  One of our volunteers was doing it and I was sent as a chaperone. A girl slipped and I was holding her legs from one side. That's artistically like dancing with the fates. As a queer SWANA drag artist, having this delightful representation of yourself dancing out there is like wild horses running free. 
KC: I love that metaphor!  What are the most SWANA things about you?
VH: Besides my Armenian last name, I think the kind of embodied reactions you share with other SWANA people to pieces of culture, like when you listen to music and dance, or eat food or hang out.  When I see a picture of my grandmother, I think about the line of struggle that goes so far back and it does inspire you to not let anything hold you back.  There's also this idea of creating a homeland here with other queer SWANA people.  For us in diaspora, there's a shared experience of rejection and wanting.  We're trying to teach ourselves because the information is not being given to us. We're trying to connect and have hope because we are who we have.  It's a really embodied thing for me. I come back to holding my queer SWANA friends, supporting them, being there for them. Being visible in the community, giving that representation is an Armenian part of me. It's a mirrored experience. If I put it out there and they resonate with it, I can see what they resonate with and that teaches me something.  It's a circular pattern of recognition, learning, enjoying, embodying and just being a proud queer SWANA Armenian person and performer.  And I also really like pomegranates, you know?  And hummus.  Yeah, hummus.
KC: You've mentioned hummus so many times, and now I'm hungry.  What's your favorite Armenian, Assyrian or other SWANA food?
VH: It's true, I really like hummus. I also love the Armenian potato salad at La Med in Berkeley, and also in San Francisco. When I performed there, they fed me very well!
KC: What's something you really want to learn or a place you really want to visit?
VH: I want to learn different dances. I want to learn how to kochari for real. I want somebody to teach me officially and I want to practice for days and days. I've watched YouTube videos.  I've watched Aram Mp3. Actually, the most Armenian thing about me is my obsession with our own Aram Mp3.  He's so beautiful. I did his Eurovision Song for a show and that was a highlight of my career. I've watched very cute children teaching you how to dance with Sona Gevorkian's Dance Academy. I watch all of her videos and think, How do they not get tired? I want to learn how to do it for real and not fake it till I make it.  Somehow to make my 38-year-old body not get exhausted after three high kicks. That's my aspiration. 
One day I'd like to go to Armenia. That would be amazing. I've never been and my dad always talks about going, and lo and behold now I'm queer and that discussion has never reoccurred. I know that means I'm gonna have to go with a friend. I want to go and see Armenia and visit the queer activists, like PinkArmenia.
KC: What would be a perfect day for you?
VH: The perfect day for me would be a lot of coffee, a lot of coffee multiple times a day. I would like to have like a picnic with my queer SWANA people and eat a lot.  Then a drag show at night. Maybe some dance in there too. Probably knowing me, some volunteering-related things as well. Yeah, that would be the perfect day!
KC: Any last thoughts you want to share?
VH: I just love all of the connections and art you share on Entanik!  Whenever there's somebody that I haven't heard of, I want to follow them and see their beautiful art.  Or if they're in the area, can we collaborate? I love helping foster artists and connections. I applied for a dance performance and listed two queens that I want to work with in different countries that I wouldn't know without Entanik.
KC: Thanks so much!  It means a lot to me that you've found community and made connections through Entanik. 
***